The VisionQuest Recovery Society first became known to the public in 1997. In that year, the VisionQuest Canoe Journey took place. A one thousand mile journey from Hazelton to Victoria, coinciding with the 1997 Tribal Journeys and the North American Aboriginal Games, the journey brought together people from many diverse backgrounds.One of the first pamphlets of the Society, which can be found here, eloquently sets out the reasons, actions and vision of the earliest leaders of the Society.Approximately 75 people took part in the VisionQuest Canoe Journey. Each of them carries the memories of that experience. Quite a number kept personal journals or otherwise memorialized the journey. The writings of three of those pullers are available on this website.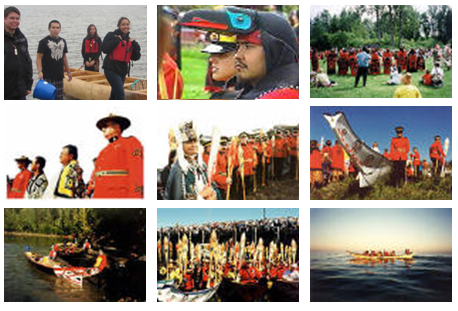 The Diaries of Ed Hill
Ed Hill is a gifted artist and speaker. At the time of the VisionQuest Canoe Journey, Ed was a Staff Sergeant in the Royal Canadian Mounted Police. Now retired from the RCMP, Ed Hill lives, paints, and canoes on the Sunshine Coast.
Ed's diaries provide a special insight to the journey. They have been divided in to two parts,Hazelton to Cape Caution and Port Hardy to Victoria.
The Articles of Jody Patterson
Jody Paterson is a columnist with the Times-Colonist newspaper in Victoria, B.C. Jody traveled from Fort Rupert to Victoria with the VisionQuest Journeys 1997 contingent and earned a reputation as a dedicated puller. When she wasn't in the canoe, Jody was either eating, sleeping, or writing her next submission. All of Jody's articles can be found here.
David Payne's Notes
David Payne is an accomplished author who currently resides in Nanaimo, B.C. David signed up for the 1997 canoe journey with the hopes of later writing a book about the occasion. However, those plans did not materialize and these notes are the result of the effort.